STARTS WEDNESDAY, AUGUST 6, 2008 OUTSIDE THE WHITE HOUSE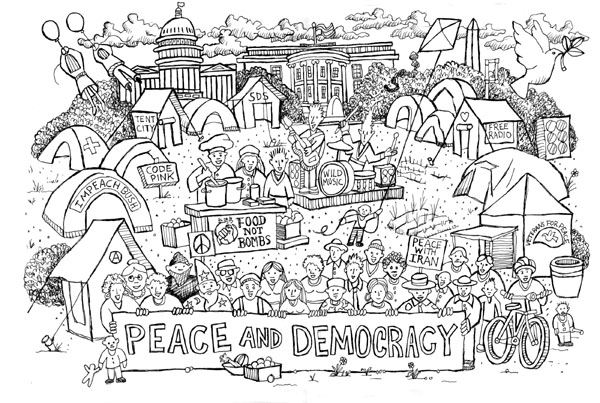 END THE WARS AND BUILD THE FUTURE WE KNOW IS POSSIBLE





NEW DATE - JOIN THE TENT CITY PROTEST WEDNESDAY, AUGUST 6 AT NOON OUTSIDE THE WHITHE HOUSE IN LAFAYETTE PARK
We are very sorry about the change in date. Problems with the food and logistics. If Bush starts bombing Iran before August 6th we plan to start the Tent City two days later.

HELP BRING PEACE AND JUSTICE TO OUR WORLD





Iran strike in the air as US and Israeli military chiefs meet
June 24, 2008
Israel Prodding U.S. To Attack Iran
Bush Administration Weighs Striking Iran's Nuclear Complex, Which Could Trigger 3rd War In Region June 24, 2008





END THE OCCUPATIONS AND STOP BUSH'S THREAT OF WORLD WAR III AGAINST IRAN - WORK FOR SOLUTIONS TO CLIMATE CHANGE, POVERTY AND HUNGER.



We can start building a world with peace, healthcare, education, food, housing, a safe environment, and democracy. Experience the power of nonviolent social change and the joy of building a community of resisitance. Activists with an number of organizations including the Washington Peace Center, CodePink DC, Washington Homes Not Jails, Propositon One and Food Not Bombs met this May in Washington DC to plan some of the logistics for the Tent City Protest. Proposition One has been protesting everyday outside the White House for over 25 years. We agreed to start the main action the August 6th to give us more time to plan. Everyone is invited to gather at outside the White House at noon.

WHY DO WE NEED A TENT CITY PROTEST


The U.S. and Israel are planning to bomb Iran. This could cause the global economy to crash. We are facing a crisis. Millions of Americans are losing their homes and jobs as the federal government spends billions on illegal wars and domestic repression. The presidential candidates are offering no solutions to the failing economy or addressing the crisis of climate change. They are calling for war against Iran which could bring the world to economic crisis. Twenty percent of the world's oil would be cut do to this conflict. Oil prices are already causing hunger and driving millions into extreme poverty. Barack Obama delivered a speech on Wednesday, June 4, before the American Israel Public Affairs Committee restating he is willing to attack Iran if he is elected. Barack Obama delivered a speech on Wednesday, June 4, before the American Israel Public Affairs Committee claiming he will bomb Iran but said nothing about the domestic economic crisis.

"That starts with ensuring Israel's qualitative military advantage. I will ensure that Israel can defend itself from any threat from Gaza to Tehran. Defense cooperation between the United States and Israel is a model of success, and must be deepened. As president, I will implement a Memorandum of Understanding that provides $30 billion in assistance to Israel over the next decade investments to Israel's security that will not be tied to any other nation. First, we must approve the foreign aid request for 2009. Going forward, we can enhance our cooperation on missile defense. We should export military equipment to our ally Israel under the same guidelines as NATO. And I will always stand up for Israel's right to defend itself in the United Nations and around the world. Finally, let there be no doubt: I will always keep the threat of military action on the table to defend our security and our ally Israel."

The American Israel Public Affairs Committee is an extream right-wing group aggressively calling for total war against Iran even using nuclear weapons. The American Israel Public Affairs Committee also promoted war on Iraq.



LOCATIONS TO MEET IN WASHINGTON DC


We invite you to join us outside the White House at Lafayette Park at the Proposition One Vigil.Lafayette Square is a seven-acre public park located directly north of the White House on H Street between 15th and 17th Streets, NW. When arriving in Washington DC you can stop at the CodePink House at 712 5th St NE between G&H (5 blocks from Union Station- Red Line) Please call the house at 202.290.1301 or email the house at dc[at]codepinkalert.org. The house will be closed on June 28th through July 4th but you are free to stop by before the Tent City Protest or during the rest of the summer. You can also check in at the Washington Peace Center at 1233 12th Street, NW, downstairs.¬¨¬®¬àˆù¬¨ˆÝ¬à¬ƒ¬¨¬®¬¨¬Æ¬¨ˆÝ¬à¬ºCall the Washington Peace Center at 202/234-2000¬¨¬®¬¨¬Æ¬¨ˆÝ¬à¬º or email them at wpc(at)igc.org




WHAT YOU CAN BRING TO THE TENT CITY PROTEST


At first because of the laws against camping in Washington DC we invite you to bring a life size card board image of a tent as well as a pop-up tent that you can set up on the street. Food Not Bombs plans to provide vegetarian meals so a bowl, cup and silverware is helpful. Also bring a sleeping bag and plastic to cover yourself in the rain. if you can help cook and have a propane stove, pots, spices and other cooking equipment that is also helpful. Those interested in First Aid can bring medical supplies. Bring a sign to announce the name of your organization. Music, puppets, street theater is also welcome. Water jugs are also very important as the summer is very warm in Washington DC.


Join the Tent City Protest to stop the U.S. attack on Iran, to end the wars in Iraq and Afghanistan while showing that we can create world free from domination, coercion and violence.

WHY ARE TENT CITY PROTEST EFFECTIVE


While marches, vigils and rallies are important the Bush administration has shown it can ignore these one day events. On the other hand long ongoing actions are impossible to turn a blind eye too. Tent City Protests during the Orange Revolution in the Ukraine, Camp Casey in Crawford, Texas, the 27 day Tent City Actions in San Francisco and the 600 day farmer's action at the Bosnia and Herzegovina Square in Sarajevo were powerful and inspired change. Activists are also planning to organize Tent City Protests outside military installations, federal buildings and U.S. embassies. All peace and social action groups are invited to join in the tent city protest.

There is a vigorous debate about what strategy might work to end the crisis caused by the "war on terrorism." Rallies, marches and petitions haven't done enough to stop torture, secret prisons, the use of cluster bombs against civilians, wire tapping and data collection, laws such as the Military Commissions Act and the Violent Radicalization and Homegrown Terrorism Prevention Act of 2007. At the same time actions to protect the environment, healthcare, education and housing haven't been successful. One strategy that has proven effective at bringing positive social change has been the tent city protest.

We are facing an urgent crisis. Bush is talking of World War III against Iran using nuclear weapons, the global economy is failing for most, climate change continues to become more urgent and the U.S. empire is using every measure possible to protect its power. Bush has pointed to the power of tent city protests to bring political change. Lets show him that we can also bring democracy and peace to the United States. Join us in participating in the Tent City Protest. CONTACT YOUR LOCAL PROGRESSIVE GROUPS AND ORGANIZE A MEETING IN YOUR COMMUNITY!



LOOK AT THE POWER OF PAST TENT CITY PROTESTS
The 2005 Palestinian / Israeli Peace Camp and actions to plant olive trees for peace united the community
The tent city protest outside the Parliament Building in Kiev during the Orange Revolution restored the democracy of the Ukraine.
Thousands of protesters joined Cindy Sheehan's Camp Casey outside Bush's Ranch in Crawford, Texas. Her tent city protest brought our opposition to the war to world attention.
The National Coalition for the Homeless organized 250,000 to appear in Washington, D.C., in October 1989 with its Housing Now! March.
A coalition of homeless and peace groups organized the 27 day Tent City protest for homeless peoples rights in San Francisco in 1989 which ended the police violence and opened additional homeless programs.
The 600 day tent city action at the Bosnia and Herzegovina Square in Sarajevo. The action was organized by the Sarajevo collective 'food-not bombs!,' with the goal to support the informal citizen group that has been gathering as of December 2005 in front of the Square of the earlier BH Parliament, and in order to simply discuss and publicly talk about the problems that bear a heavy weight on the majority of the Bosnia and Herzegovina citizens, female, male, and surely all others.
Imagine a tent city that provides universal healthcare, education, cultural events, free organic meals, solar energy and provides an example of the world we can have if we stop spending our wealth on war.
BUILD THE WORLD WE KNOW IS POSSIBLE
PLEASE JOIN US THIS SUMMER
STARTS WEDNESDAY, AUGUST 6, 2008 OUTSIDE THE WHITE HOUSE
YOU CAN MAKE THE DIFFERENCE!
| | |
| --- | --- |
| Camp after the Bonus March | Tent City Protest in Ukraine |
| | |
| --- | --- |
| Veteran Families at Hooverville | The 600 day tent city in Sarajevo |
THE TENT CITY PROTEST IS ENDORSED BY: Voices for Creative Nonviolence, Venice Santa Monica Food Not Bombs, Code Pink DC, The Iraq Moratorium, Arlington Food Not Bombs, PeaceMajority Report, A Window on the Peace Community in America, The Food Not Bombs Menu, Dayton Food Not Bombs, Moscow Food Not Bombs, Proposition One, Washington Homes Not Jails. Please contact us to endorse this powerful action.
PRINT OUR THE TENT CITY PROTEST FLYER
PLEASE ENDORSE THE TENT CITY PROTEST
| The Bosnia and Herzegovina Square Tent City in Sarajevo | Current Presentation Schedule | Police tear down tent city to end protests in Kiev | Boston Tent City 1968 | The Bonus March and Hooverville | Camp Casey, Crawford, Texas | The Lessons of Camp Casey |
---
The Tent City Protest 2008
1-800-884-1136
menu@ foodnotbombs.net
www.consensus.net/tent_city_protest. html

PRINT OUT THE TENT CITY PROTEST FLYER