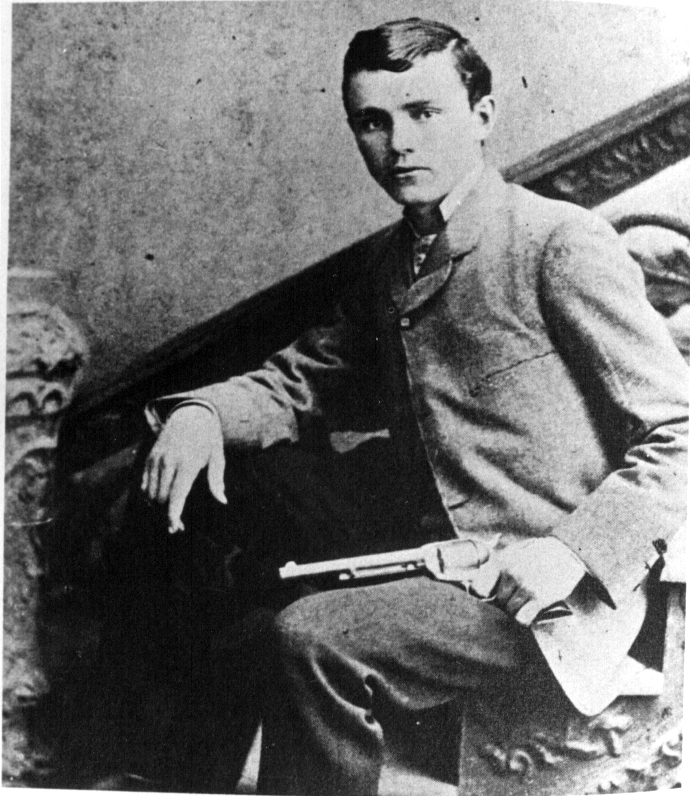 The brother of Keith's Great Granfathers Bob Ford shows off the revolver he used to slay Jesse James.
During the winter of 1882, Jesse tried to buy a small farm in Nebraska. But in April, he was short of cash. All of his earlier gang members were either dead or in prison, but Jesse recruited Bob and Charlie Ford to help him rob the Platte City bank. The Ford brothers posed as cousins of Jesse James, but actually were not related to Jesse at all.
The $10,000 reward on Jesse proved too appealing. While Jesse stood on a chair in the family home at 1318 Lafayette Street in St. Joseph to dust and straighten a picture, Bob and Charlie Ford drew their guns.
Bob Ford put and end to the James Legend with a single bullet to the back of the head on April 3, 1882. While James stood on a chair in his home in St. Joseph to straighten and dust a picture, the Ford brothers drew their guns. Robert Ford's shot hit James in the back of the head, ending his outlaw days for good. Ford hoped to claim the $10,000 offered for James's capture but received only a fraction of the reward and was charged with murder. He did, however, secure himself a place in Western outlaw lore which lives on in literature, song, and film.
James' epitaph, selected by his mother, read: IN LOVING MEMORY OF MY BELOVED SON, MURDERED BY A TRAITOR AND COWARD WHOSE NAME IS NOT WORTHY TO APPEAR HERE.
The Ford brothers attempted to collect the reward. Instead, they were charged with murder. They were sentenced to hang, but were pardoned by Governor Tom Crittenden.
Two years later Charles Ford committed suicide and Bob Ford, the "dirty little coward who shot Mr. Howard, and laid poor Jesse in his grave," was himself killed in a bar room brawl in Creede, Colorado, in 1892.
Listen to Jesse James
Cat. #0969 (MFH #325) - As sung by Almeda Riddle, Greers Ferry, Arkansas on February 10, 1970

VERSE 1
Jesse James was a lad
That killed many a man
He robbed th Danville train
An' th dirty little coward
That shot Mr. Howard
Laid Jesse James in his grave
VERSE 2
It was Robert Ford
And th dirty little coward
And I wonder how he feels
For he slept in Jesse's bed
And he ate o' Jesse's bread
But he laid Jesse James in his grave
VERSE 3
Poor Jesse had a wife
That mourned his life
An' children, who were brave
But th dirty lettle coward
That shot Mr. Howard
Laid Jesse James in his grave
VERSE 4
It was with his brother Frank
That he robbed th Gallation Bank
An' carried th money from th town
It was at that very place
That they had the lettle chase
That shot ole Captain Sheets to the ground
VERSE 5
They went to a crossing
Not very far from there
And there they did th same
For the agent on his knees
Delivered up th keys
To th outlaws, Frank an' Jesse James
VERSE 6
Poor Jesse had a wife
Who mourned for his life
And children too, that were brave
But that dirty lettle coward
That shot Mr. Joward
Has laid ole Jesse James in th grave
VERSE 7
It was on a Wednesday night
Not a star was in sight
N' they robbed th Glendale train
Those people they did say
For many miles away
It was robbed by Frank an' Jesse James
VERSE 8
Then on a Saturday night
Jesse was at home
Just being with his family brave
When Robert Ford came along
Like a thief in th night
He laid Jesse James in th grave
VERSE 9
Now, the people helt their breath
When they heard of Jesse's death
They wondered how he came to die
It was one of his own gang
Called little Robert Ford
An' he shot Jesse James on th sly
VERSE 10
This song was made
By Billy S. Slde
As soon as th news did arrive
It's said there's no one man
With th law in his hand
Could ever take ole Jesse James alive
VERSE 11
Jesse had a wife
To mourn his life
An' his children too, were brave
But th dirty lettle coward
Shot Mr. Howard
An' laid Jesse James in th grave

---
Keith McHenry
P.O. Box 424
Arroyo Seco, NM 87514
USA
575-776-3880

E-Mail: keith@foodnotbombs.net
http://www.consensus.net/ resume.html