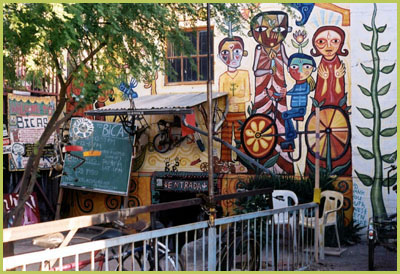 Because BICAS is a non-profit organization, we rely on donations from the public. We are always very grateful to receive financial contributions as well as donations of bicycles and bicycle parts in any condition. All donations are tax-deductible.
BICAS is a community co-op, so it's your place, too! So...feel free to give us a call, send us an e-mail or a letter, or better yet, drop on by. We are located at 44 West 6th Street (on the northeast corner of 6th Street and 9th Avenue) in Tucson. Our phone number is 520.628.7950 and our snail-mail address is:
BICAS
P.O. Box 1811
Tucson, AZ 85702 U.S.A.
Thanx for visiting our site, and we hope to see you soon!
Love, peace, and bicycle grease!! Recycle...and ride a bicycle!


Bicycle Inter-Community Art and Salvage (or BICAS for short) is a non-profit community cooperative dedicated to promoting and recycling bicycles, bicycle awareness, and bicycle art and culture.

BICAS does many things: